Trevor Smith into The Sixes
November 11, 2013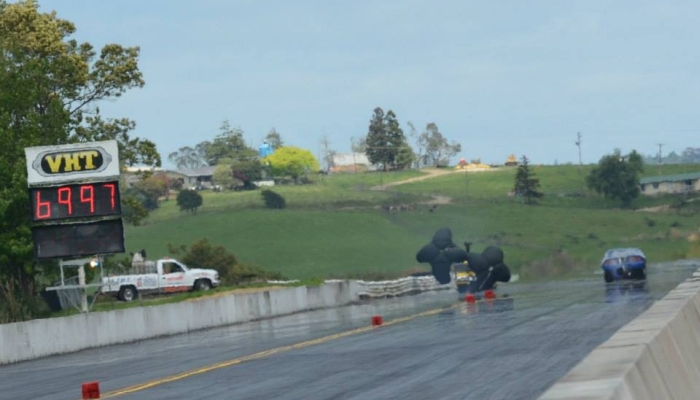 [Photo by: Popeye Pics]
Trevor Smith was the only Top Doorslammer to front for round one of the Fram Autolite Dragway 2013/14 Track Series, on November 10-11, 2013. He was slotted into the Top Comp bracket where Trevor qualified second, with a 7.007 at 196.59 mph, in the B & T Earthmoving 75 Statesman. The top qualifier was Anthony Marsh with a 5.419 in his A/FD!!!!
The first round saw Trevor up against Harry Taylor in his Camaro. Trevor dialed in a 6.95 and Harry a 8.85. After a 1.9 second head start, Trevor recorded his first 6, a 6.997 at 195.62, to reel in Harry's 9.086 by 0.15 seconds. He then met the front engined dragster of Dave Mason and Aaron Lelean in the second round. Trevor got to the finish line first with a 7.046 (6.94 DI) at 199.14, to take the win from the dragsters breaking out 7.943 (8.00 DI).
Trevor got a bye in the semi final and recorded a 7.086 at 198.76. Engine damage prevented him from fronting for the final, which was won by Barry Plumpton in his A/TS Monte Carlo.