Rod Benjes & John Dillon: 1992 Beretta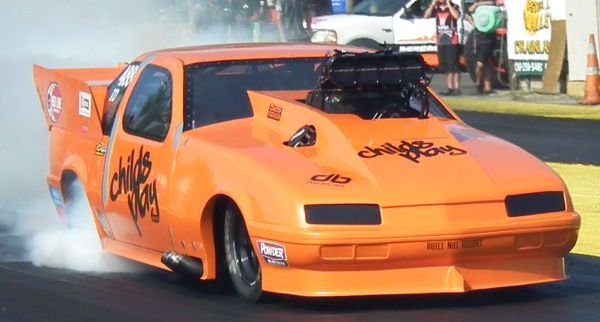 [Photo by: Ralph Smith]
This superbly engineered race car was built by the owners, John Dillon and Rod Benjes (DB Race Cars), in 2010. Based in Upper Hutt, the talented duo fabricated the SFI spec chromoly chassis and almost everything else on the car.
With support from sponsors and some very dedicated crew the team have been upgrading and stepping up on performance every season. The 14/15 season saw the team switching to a 526 Hemi with great results, achieving a new personal best of 6.51 @218 mph on their second full pass and ultimately winning the 2014/15 IHRA nationals.
Heading in to the 2015/16 season the team continue their quest for improved performance, replacing their 16/71 roots supercharger with a PSI, the ultimate in high performance superchargers. This along with a number of other improvements should see the team moving in to the low 6's once they get a handle on it.
Certainly one to watch this season.
| | |
| --- | --- |
| Class | Top Doorslammer |
| Body | 1992 Beretta |
| Engine | 526 TFX, BAE5 heads |
| Supercharger | PSI |
| Fuel Injection | JBR carbon injector hat, Waterman fuel pump, DB Race Cars fuel system |
| Ignition | MSD Pro Mag 44 |
| Data Logger | RPM DL10 |
| Clutch | Crower 3 disc clutch |
| Gearbox | Lenco 3 speed, air shifted |
| Differential | Fabricated chrome moly 9" by DB Race Cars, Strange Engineering 40 spline floaters and 9-1/2" Ultracase centre section |
| Front Suspension | Strange Engineering struts |
| Rear Suspension | Vanishing Point 4-link, DB Race Cars X-Link & Anti Roll bar, QA1 double adjustable coil-over shocks |
| Chassis | Double frame rail chrome moly chassis built by John Dillon and Rod Benjes (DB Race Cars) |
| Wheels | Front: Weld spindle mount Alumastar's. Rear: Cragar 16 x 16 Beadloc's |
| Tyres | Front: MT front runners. Rear: Goodyear 34 x 17 x 16 slicks |
| Brakes | Wilwood master cylinder - Strange single pot front & JFZ 4 pot rear |
| Paint | Panel and paint completed by the pre-trade students at WelTech |
| Major Sponsor | Mendoza Mechanical, DB Race Cars, Childs Play |
| Best times | 6.211 secs. 229.83 mph |
| Facebook | DB Racecars |
| Crew | John Dillon - Crew Chief, Jeremy Price, Paul Cathro, Bill Cliff, Nelly Eastham, Steph Davies |