2015/16 IHRA New Zealand Nationals
Meremere Dragway, 12 & 13 March, 2016
The 2016 IHRA New Zealand Nationals held at Meremere Dragway had great support with nine competitors fronting from the South Island.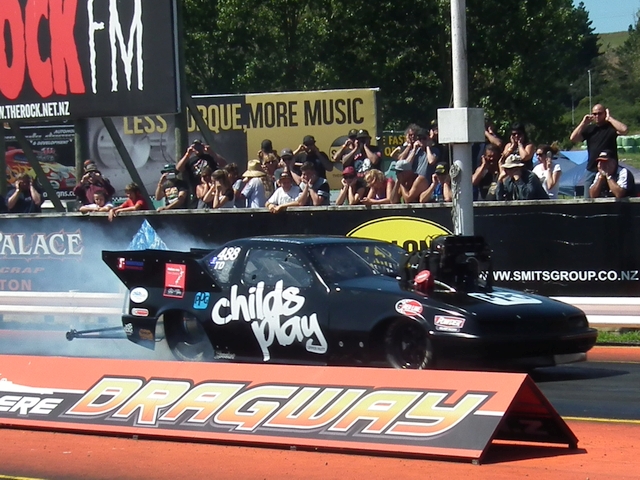 Rod Benjes recorded a 6.475 PB to top qualify at the Nationals [Photo by: Ralph Smith]
Five competitors were present for the P & I Pascoe Top Doorslammer bracket. Two Holdens lead out the first session of Top Doorslammer qualifying. Gary Benham in his 1951 Ute and Trevor Smith in the Earthmover 1975 Statesman. Both had to abort their first runs down the track. Next up was Cess Miller in his 1959 Chevrolet Impala and Barry Plumpton in the Focus Construction Group Monte Carlo. Miller struggled down the track for a 9.5 and Plumpton had his chutes come out.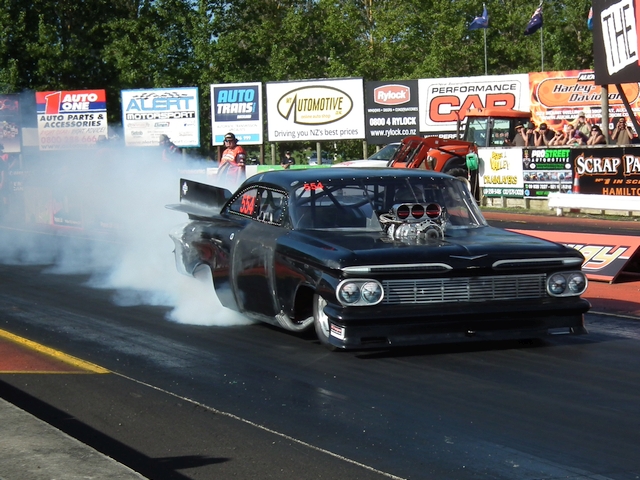 Cess Miller struggled to get down the track in the first three qualifying session, but improved to an 8.1 in the fourth. It was no match for Trevor Smith's 6.9 in the first round [Photo by: Ralph Smith]
Miller and Benham came out first for the second session. Miller was pushed back with a minor problem and Benham had an 8.414 at 162.16. Smith was out next alongside Rod Benjes in the Childs Play 1992 Chevrolet Beretta. Smith took the top spot with a 6.573 at 218.94 and Benjes had a troubled 9.9. Miller had quickly rectified his problem and came out alongside Plumpton. Plumpton recorded a 6.999 at 192.33 to move into second and Miller again struggled to a 9.096 at 143.61.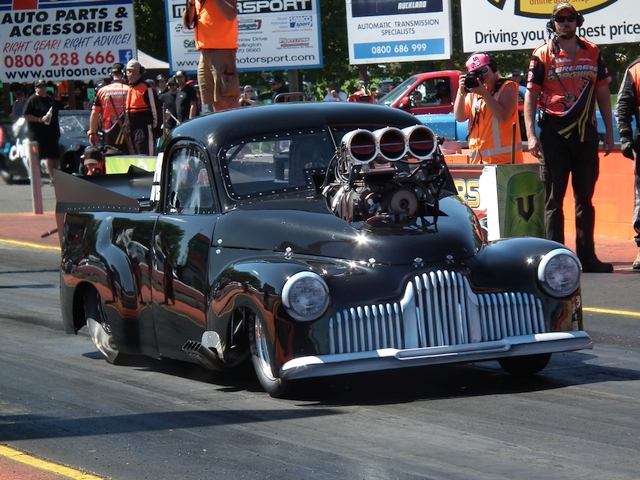 Gary Benham had gearbox problems [Photo by: Ralph Smith]
The third session saw the positions get shaken up. Benjes recorded a PB of 6.475 at 220.91, with some minor front guard damage caused by shake, to move to the top position. Smith had a door come off on the way to an improving 6.500 at 220.80. Miller was the only car to come out for the fourth session and he improved his time with an 8.127 at 162.31.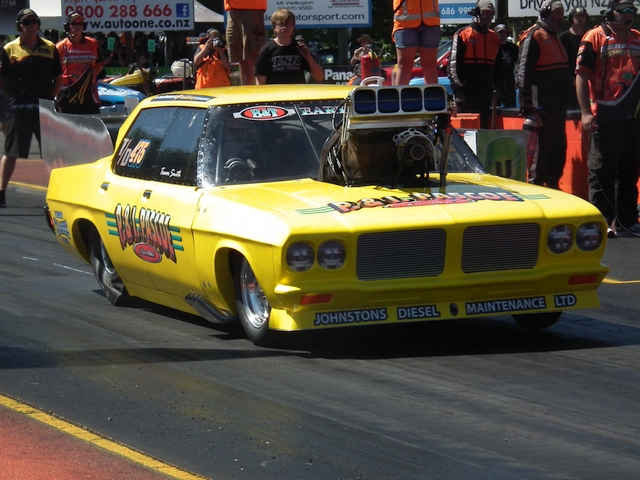 Trevor Smith survived loosing his door on the way to winning Top Doorslammer [Photo by: Ralph Smith]
Final Qualifying Positions
1
Rod Benjes
92 Beretta
526 TFX
Wellington
6.475
220.91
2
Trevor Smith
75 Statesman
511 TFX
Pukekohe
6.500
220.80
3
Barry Plumpton
05 Monte Carlo
823 Chev
Massey
6.999
192.33
4
Cess Miller
64 Falcon
509 Chev
Te Awamutu
8.127
162.31
5
Gary Benham
51 Holden Ute
509 Chev
Waitara
8.414
162.16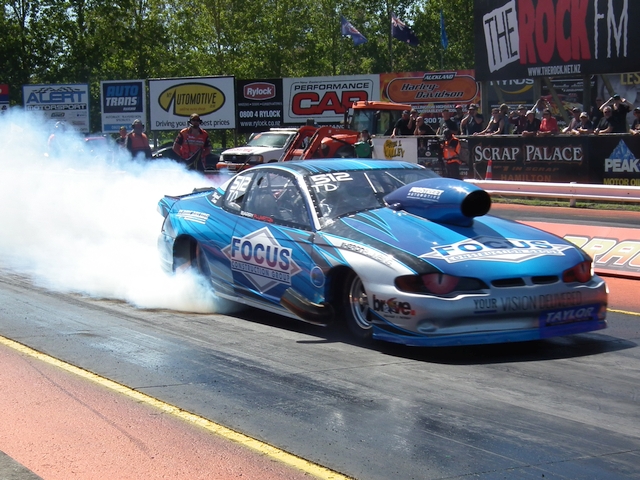 Barry Plumpton qualified third with a 6.999, but had to withdraw from competition [Photo by: Ralph Smith]
Barry Plumpton advised out with a problem, leaving four cars for the eliminations. Trevor Smith had repaired his door and opened the first round alongside Cess Miller. Miller recorded another 8.1 and was no match for Smiths 6.985 at 185.10. Gary Benham had gearbox problems and could not front up for his race against Rod Benjes. Rod and his crew had repaired his body work damage and was lucky to be on a solo as he got slightly out of shape and aborted the run for a 9.7 pass at 86 mph.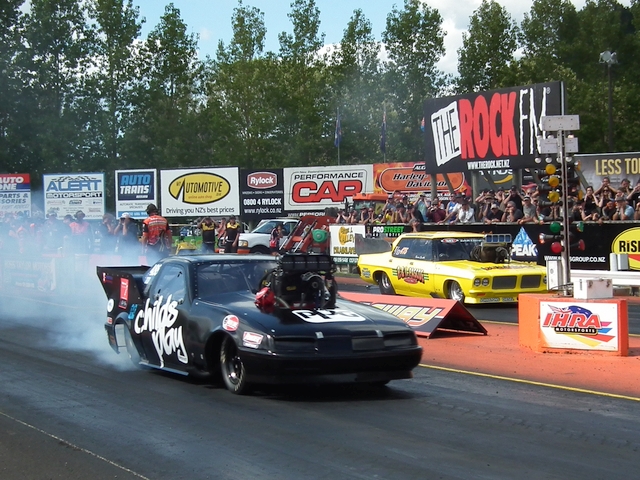 Rod Benjes scrapped the wall in the final and Trevor Smith took out the Top Doorslammer title [Photo by: Ralph Smith]
The final was between the two top qualifiers, Rod Benjes and Trevor Smith. Trevor recorded his best run of the weekend with a 6.491 at 219.65 for the win when Rod again got out of shape and hit the wall, fortunately with what appeared to be only body damage. It was Trevor's first Nationals win and is a match for his son's, Trevor Junior's win in Junior Dragster in 2014. Due to his early season results, Barry Plumpton secured the IHRA National Series Top Doorslammer championship, with Trevor Smith coming second.