2018/19 Kiwi Thunder Series. Round 1
Meremere Dragway, 12 January, 2019
Points after Round 1
Round one of the Kiwi Thunder Group One National Series was part of the Wellington Invasion meeting at Meremere Dragway on January 12. Seven competitors fronted to earn some Top Doorslammer points.
The day was very hot and the drivers struggled to get down the track in qualifying. Barry Plumpton's 6.761 was enough to take the top spot in the Focus Construction Group Camaro. The only other driver in the 6's was Adam Prestney in the Pirtek Grand Am with a 6.956. Mark Bardsley had fitted a data logger and MSD Grid to the Rislone Camaro and was third with a 7.054. Rod Benjes recorded a 7.7 in the Childs Play Beretta. Nigel Dixon recorded a 7.8 in the Kruzin Kustoms Falcon in the first round of qualifying, but was not seen on track again. Gavin Green was all over the track in qualifying and only managed a 15 second pass. Squig Miles fronted in the STA Falcon, but oil pump problems saw him shut down twice and then not reappear.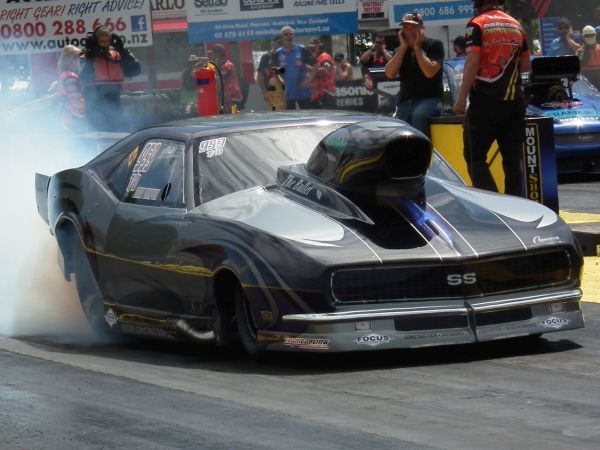 Barry Plumpton top qualified with a 6.761 and set Low ET with a 6.158 [Photo by: Ralph Smith]
Round one of eliminations saw Barry Plumpton with an on and off 7.0 second bye. Rod Benjes also had a bye and improved with a 6.6. Adam Prestney recorded an 8.3 on yet another bye. The only paired pass saw Mark Bardsley realise the gains from his upgrades with a 6.161 at 228.81, a 0.28 second lowering of his PB, to defeat Gavin Greens 7.7 pass. Mark had a brake caliper seize, and flat spot a front tyre in the shutdown, necessitating a brake overhaul and a wheel change before round 2. The 6.161 is the second quickest blown doorslammer run in NZ, by 0.001 seconds to Wayne Yearbury's 6.160.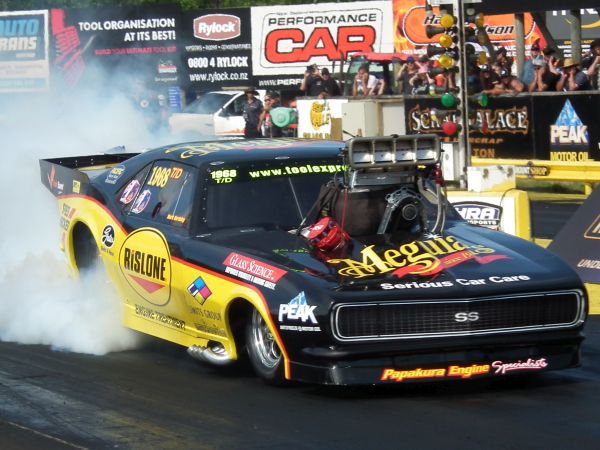 Mark Bardsley realised the gains from his upgrades with a 6.161 at 228.81 [Photo by: Ralph Smith]
Rod Benjes and Barry Plumpton opened round two. Rod had to lift, but his 7.4 at 161 easily defeated Barry's 8.0 run. Mark Bardsley cruised to a 6.638 at 212.16 when he saw that Adam Prestney had redlighted, but managed to get a second front puncture. Gavin Green came out for a pass and recorded a 7.7 at 187.
In the final, Rod Benjes again struggled to get down the track with an 8.0 pass, but he took the win, in front of his sponsor Chris Childs from the USA, when Mark Bardsley rolled through for a 12 second pass. Adam Prestney and Barry Plumpton then came out for another pass. Barry's 6.158 at 227.38 was low ET for the meeting and enough to take the win over Adams bouncing 6.454. Gavin Green came out again, but shut off for a 15 second pass.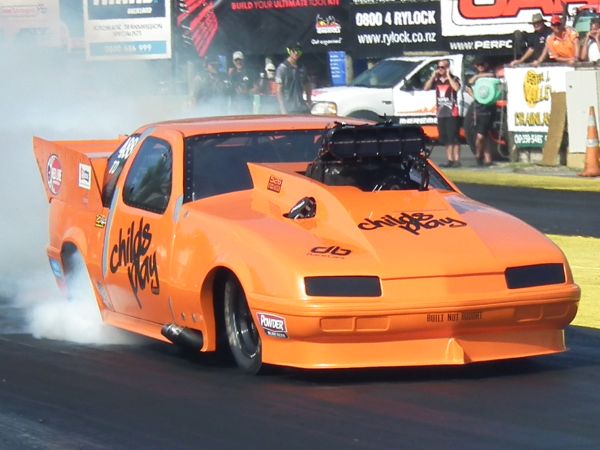 Sporting battle scars after loosing two doors at Masterton, Rod Benjes won round 1 of the 2019 Kiwi Thunder series at Meremere [Photo by: Ralph Smith]