2019 IHRA New Zealand Nationals 2019 Kiwi Thunder Series. Round 3 Meremere Dragway, 9 & 10 March, 2019 Kiwi Thunder Points after Round 3
The 2019 IHRA New Zealand Nationals, held at Meremere Dragway, were the final round of the 2018/19 IHRA National Series and Round 3 of the 2019 Kiwi Thunder Series. Persistant rain stopped after lunch and racing commenced about 2pm on Saturday.
1st Auto Parts Top Doorslammer
Rod Benjes, partner John Dillon, and crew thrashed hard to win Top Doorslammer in the Childs Play Beretta. [Photo by: Ralph Smith]
Eight competitors fronted for 1st Auto Parts Top Doorslammer. Rod Benjes in the Childs Play Beretta led the first qualifying session with a 6.809 at only 174.03 mph. Adam Prestney in the Pirtek Pontiac Grand Am spun and hit the wall, with no injuries to himself, after recording an 8 second pass, and was out of the meeting. Gavin Green in the Pro Parts 68 Firebird struggled to a 10 second pass. Nigel Dixon in the Kruzin Kustoms BF Falcon dopped some oil in the burnout and did not make a pass. Barry Plumpton had to back off in the Focus Construction Camaro, recording an 8.3 to be second at the end of the session.
The second qualifying session saw Rod Benjes idle down the track while Gavin Green improved with a 7.198. Barry Plumpton also improved with a 6.958 at 205.88 mph. Nigel Dixon moved to the top spot with a 6.172 PB at 235.10, that would be low ET for the meeting. Mark Bardsley, in the Rislone Camaro, backed off to a 7.4 at only 169 mph with a damaged lifter. Squig Miles recorded a PB of 6.860 at 205.88 mph to put the STA Falcon into third position.
The third round of qualifying saw Gavin Green loose his blower belt at the launch. Cess Miller made a wheels up 10 second pass in his 59 Impala and Barry Plumpton failed to improve his position with a 7.3.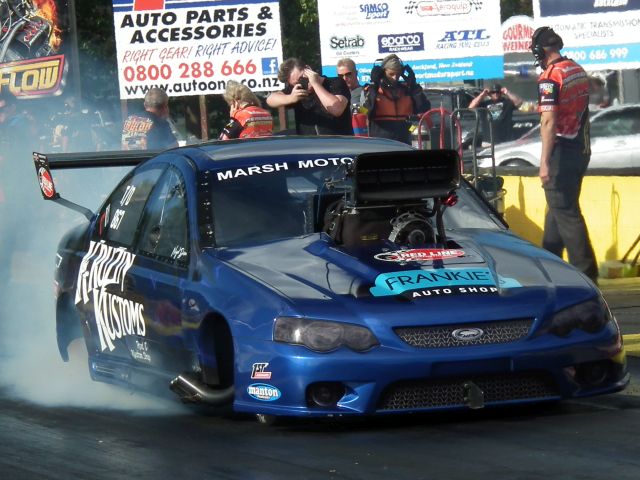 Nigel Dixon top qualified the Kruzin Kustoms Falcon with a 6.172 PB at 235.10. [Photo by: Ralph Smith]
Round one of eliminations opened with Barry Plumpton and Gavin Green. Gavin improved upon his qualifying time, but his 6.946 at 231.64 was beaten by Barry's 6.745 at 203.12. Rod Benjes had a 6.858 at 206.01 solo when Cess Miller failed to show. Squig Miles got a win with a 7.276 at 194.52 when Mark Bardsley blew both burst panels in his burnout. Nigel Dixon drifted toward the centre line and backed of to a 6.674 at 208.88 bye run, which was low ET for the round.
Round two saw Barry Plumpton record a 6.464 at 213.57 to defeat Nigel Dixon's 6.949 at a backing off 158.04. Squig Miles failed to front after damaging his diff in the first round, handing Rod Benjes another solo. Rod backed off to a 7.2 at 177 after getting close to the centre line.
In the final Benjes had his first paired race of eliminations. The Childs Play Beretta recorded its best pass of the weekend, a 6.471 at 226.92, to take the win over Barry Plumpton's tyre shaking 7.717 at 131, which saw him get close to the centre line. It was Rods second Nationals Top Doorslammer title.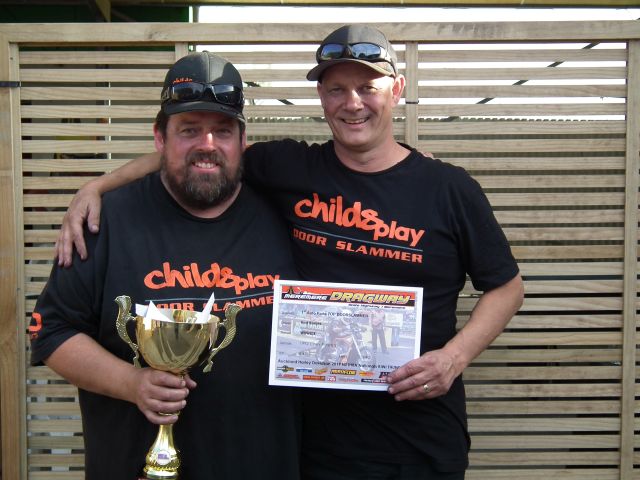 Rod Benjes and partner John Dillon with the 1st Auto Parts Top Doorslammer winners trophy.
[Photo by: Ralph Smith]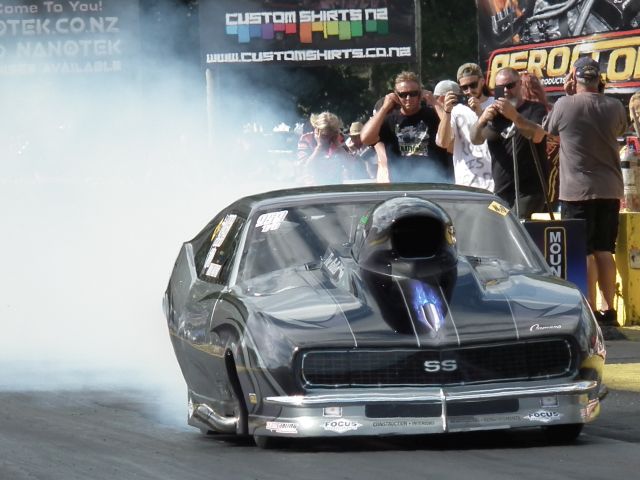 Barry Plumpton was runner up in the Focus Construction Camaro. [Photo by: Ralph Smith]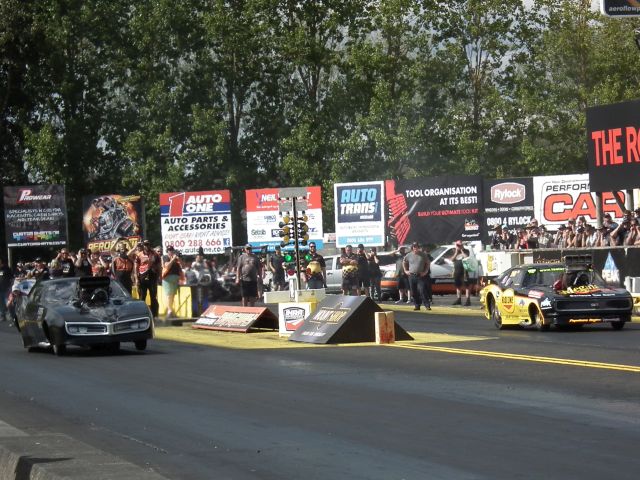 After the Top Doorslammer final, Gavin Green and Mark Bardsley came out for a grudge race. Gavin recorded PB's of 6.223 and 237.4 to beat Mark's 6.258 at 220.4. It was the quickest side by side Top Doorslammer race in New Zealand. [Photo by: Ralph Smith]