2018/19 Kiwi Thunder Series. Round 4
Masterton Motorplex, 23-24 March, 2019
Points after Round 4 (TBA)

The Kiwi Thunder Group One National Series concluded with round four, the NZDRA Nationals, at the Masterton Motorplex. Top Doorslammer saw eight competitors front for a final win in the debut season of the Kiwi Thunder Group One National Series.

Round one of qualifying saw Brent Whittingham take the lead with a 7.5 pass. Brent is coming to grips with Top Doorslammer having purchased Russell Lowes 1969 Camaro.
Brent Whittingham stepped up to the Kiwi Thunder Series at Masterton and lead the first qualifying session [Photo by: SV Photos]
The second session got a bit more serious with Gavin Green taking the top spot, in the Pro Parts Firebird, with a 6.251 at a PB equaling 237.4 mph. Nigel Dixon recorded a 6.556, in the Kruzin Kustoms Falcon, to be second. Barry Plumpton was racing his old Monte Carlo, as his 68 Camaro was on its way to Australia where Barry will compete shortly, and recorded a 7.540. Squig Miles made a 8.1 second sorting pass.
Round three saw seven competitors hit the track. Nigel Dixon, Squig Miles and Barry Plumpton all made 6 second passes. Whittingham improved to a 7.279 at 188.83. Rod Benjes, Gavin Green and Adam Prestney all made unrepresentative passes.
The final qualifying session saw Rod Benjes, in the Childs Play Beretta, take the number one position with a PB of 6.211 at 221.50. Whittingham improved again, but his 7.236 would not threaten the top runners. Squig Miles, in the STA Falcon, failed to improve with a 6.864, but he was however happy with a 206.49 PB. Nigel Dixon improved with a 6.217 at 232.26 to finish in second position. Greens 6.436 failed to improve upon his earlier 6.251 and he took the third spot. Barry Plumpton put the Focus Construction Group Monte Carlo into fourth with a 6.795. Adam Prestney in the Pirtek Grand Am and Mark Thomas in his 56 Ford came out a bit after the rest of the bracket. Thomas's 6.825 should have put him in fifth position but he was not shown in the list of qualifiers. Prestney launched well, but recorded an 11 second pass which was also not listed.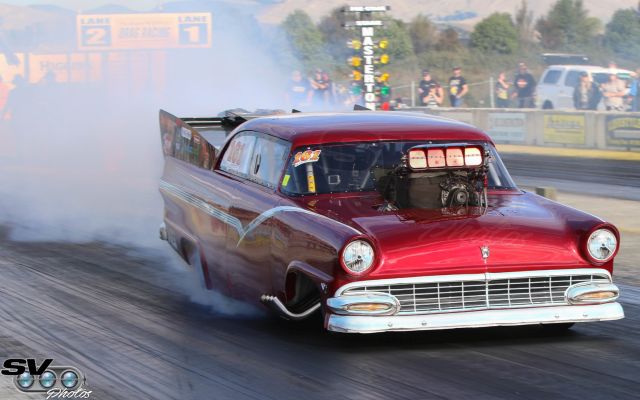 Mark Thomas made one pass in his 56 Ford [Photo by: SV Photos]
Rod Benjes opened round one of eliminations with a bye run. His 7.3 pass damaged the rear main bearing and he would not front for the second round. Squig Miles outran Barry Plumpton with a 6.783 PB, but lost to Barry's 6.950 after being on the loosing end of a 0.111 to 0.282 start line battle. Adam Prestney improved with a 6.942 pass, but he was outshone by Nigel Dixons 6.103 at 241.03 effort. The speed is now the fastest ever Top Doorslammer pass recorded in New Zealand. The ET would be the quickest ever in New Zealand until the next round of eliminations. The final pairing saw Gavin Green get drilled at the lights by Brent Whittingham, 0.012 to 0.419, but he drove around Brent and took the win with a 6.507 over a 7.426.
Barry Plumpton opened round two with a 6.709 bye as Benjes did not front. The other semi final saw history made by Gavin Green and Nigel Dixon. Gavin left the line 0.077 seconds after Nigel and then threw everything at Nigel. He drove around him with the first 6.0 second Top Doorslammer pass, a 6.076 at 234.45. Nigel was not disgraced with a 6.169 at 230.00 and lost the race by 0.016 seconds. It was the quickest Top Doorslammer side by side race in New Zealand, surpassing the previous best of 6.223 and 6.258 which was between Gavin and Mark Bardsley at Meremere Dragway's IHRA Nationals earlier in the month.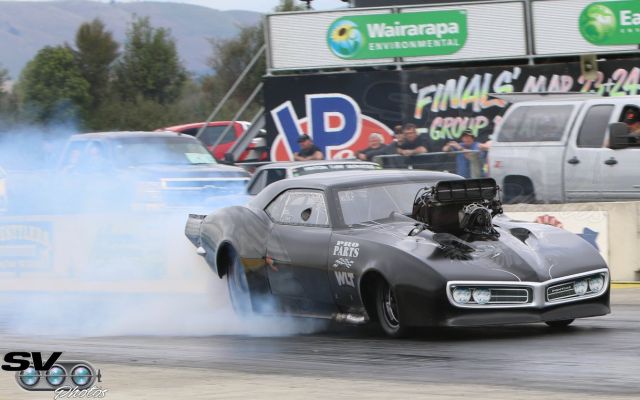 Gavin Green recorded the quickest Top Doorslammer pass in New Zealand, a 6.076 at 234.45. [Photo by: SV Photos]
After that the final was a bit of an anti climax with Barry Plumpton taking the win light, in the Focus Construction Group Monte Carlo, with a 7.220 over Gavins 7.614. The win saw Barry win the Kiwi Thunder Top Doorslammer Championship and Gavin finish in the runnerup position.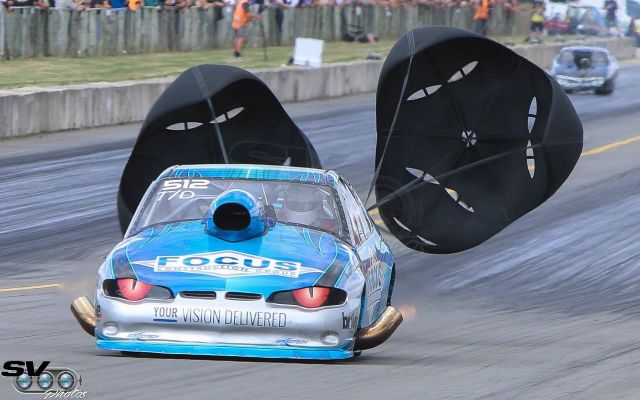 Barry Plumpton won the NZDRA Nationals and the 2019 Kiwi Thunder Series [Photo by: SV Photos]
The inaugural Kiwi Thunder Group One National Series saw three different Top Doorslammer round winners and five cars in the 6.0 to 6.2 second range. Look out for the race to the first five second pass next season.