2020 New Zealand Nationals 2019/20 National Drag Racing Series. Round 8 Meremere Dragway, 7 & 8 March, 2020
The Auckland Harley Davidson 2020 New Zealand Nationals, held at Meremere Dragway, were the penultimate round of the 2019/20 New Zealand National Drag Racing Series.
Seven competitors fronted for Aeroflow Top Doorslammer. Adam Prestney in the Pirtek Pontiac Grand Am and Nigel Dixon in the Kruzin Kustoms BF Falcon opened the first qualifying session with a 6.881 at 195.25 and a 6.154 at 242.32 respectively. Rod Benjes in the Childs Play Beretta and Gavin Green in the Pro Parts 68 Firebird both shook and recorded unrepresentative ETs. Barry Plumpton in the Focus Construction Group 68 Camaro and Rex Duckett in the Inpro Group 2012 Pontiac GXP both did a launch only for 9 second passes.
The second qualifying session saw Rod Benjes damage a piston on the way to an 8.633, while Nigel Dixon had tyre shake on the way to a 6.387 at 223.80. Rex Duckett and Gavin Green both shook and recorded unrepresentative ETs. Adam Prestney had a troubled 14 second pass alongside Mark Bardsley, in the Rislone Camaro, who recorded a 6.447 at 226.01 with valve train issues. Barry Plumpton moved into second position with a 6.355 at 215.79.
The third round of qualifying saw Rex Duckett get down the track with a 7.021 at 202.21 to secure fourth position, while Adam Prestney coasted through to a 14 second pass. Gavin Green again had problems with an 8 and Barry Plumpton stayed in second position with a better 6.263 at 201.19.
Round one of eliminations opened with Nigel Dixon pedaling to a 6.949 at 224.62 on a solo pass. Adam Prestney rolled the beams with no time against Rex Duckett who had a 7.3 at 201 mph. Barry Plumpton used a 6.233 at 213.84 to defeat Rod Benjes 7.091 at 227.11. Mark Bardsley recorded a 6.655 at 221.23 with heaps of engine smoke over the finish line to defeat Gavin Green's troubled 9 second pass.
Round two opened with Nigel Dixon and Rex Duckett. Rex had starter motor problems and could not start, while Nigel left with no times recorded when the tree failed to count down. Mark Bardsley had a blown piston and was out, handing Barry Plumpton a solo. Barry had a great 0.985 60 foot, but was forced to lift for a 6.519 at 205.63.
In the final of Aeroflow Top Doorslammer, Barry Plumpton rolled the beams handing the win to Nigel Dixon who recorded the second quickest pass of the weekend to take the win and title with a 6.181 at 225.45.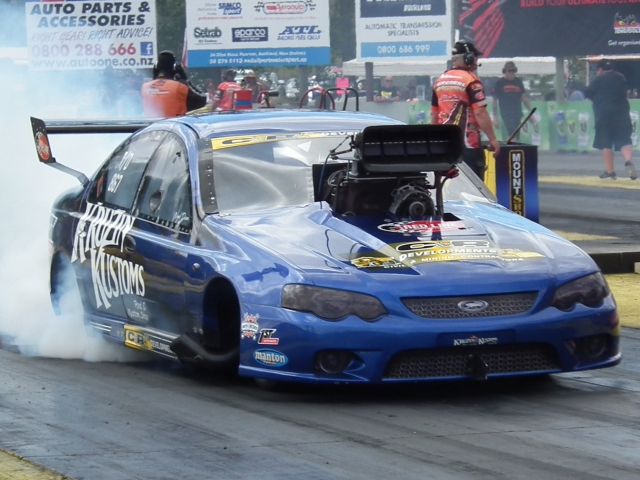 Nigel Dixon top qualified, in the Kruzin Kustoms Falcon, recorded low ET and top speed, with a 6.154 at 242.32, and won the Aeroflow Top Doorslammer title. [Photo by: Ralph Smith]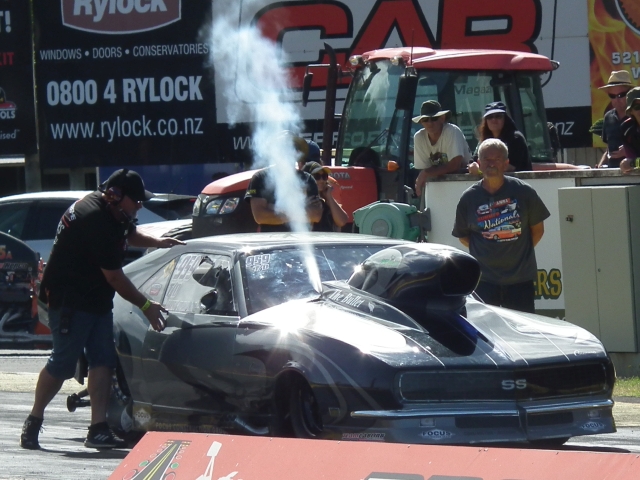 Barry Plumpton was runner up in the Focus Construction Camaro. [Photo by: Ralph Smith]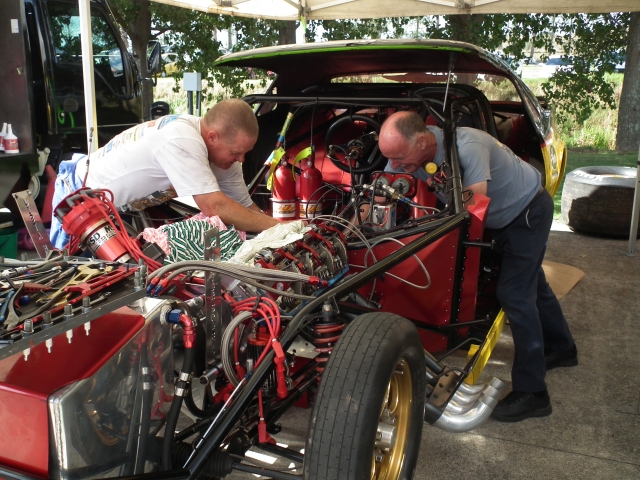 Mark Bardsley qualified third in the Rislone Camaro, but battled engine problems all weekend. [Photo by: Ralph Smith]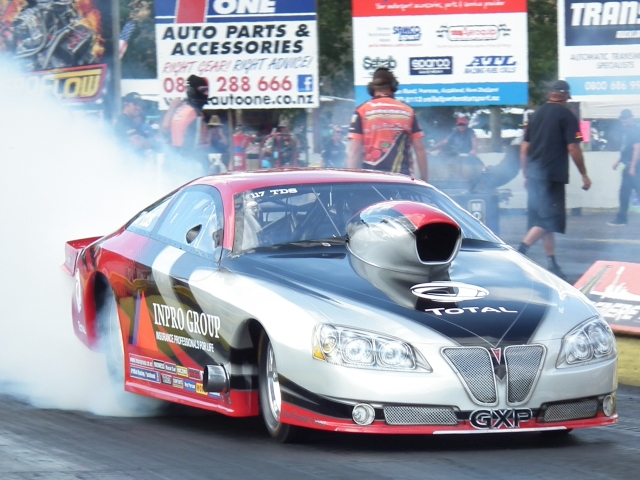 Rex Ducket was competing in Top Doorslammer, at a Nationals for the first time, in his Inpro Group GXP. He got through to the semi finals, but had a starter failure. [Photo by: Ralph Smith]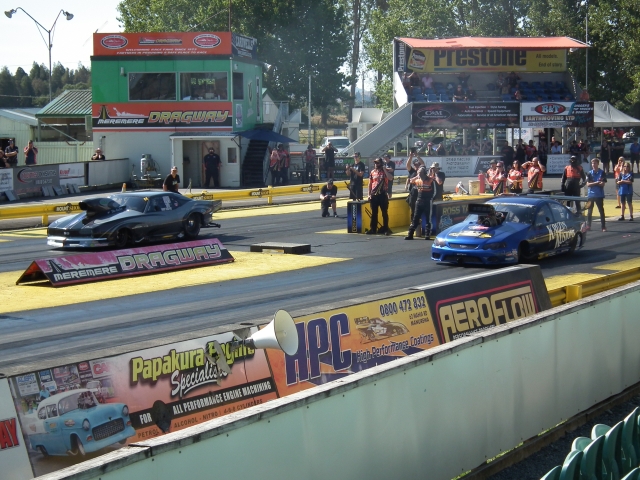 Barry Plumpton rolled the beams in the final, handing the win to Nigel Dixon. [Photo by: Ralph Smith]