Gary Benham: 1951 FX Holden Ute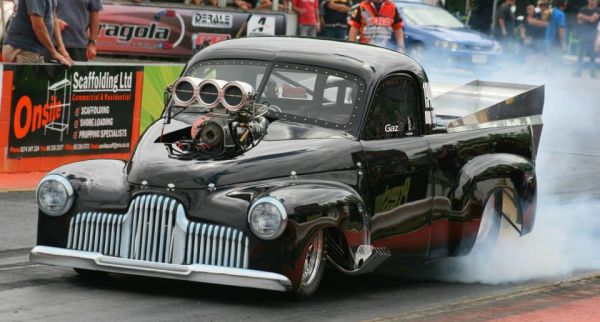 [Photo by Fast-az Photos]
Gary started racing his 1951 FX Holden ute in the 2012/13 season. Since the end of last season Gary has worked over the motor. The most obvious change is the addition of a Fowler K11 supercharger, topped by a Knut carbon fibre hat. Gary is not saying what he has done to the 509 Chev's internals.
A Liberty air shifter now controls the four speed Lenco. Larger 33.5x17x16 Weld beadlocks have replaced the former 16x15 rear wheels. Body mods were necessary to house the 17" wide tyres and lower the rear end 2" to improve the overall look.
Gary is currently preparing a '53 Studebaker for competition, having sold the Holden to Rhys O'Mahony.
| | |
| --- | --- |
| Class | BB/TS |
| Body | 1951 FX Holden Ute |
| Engine | 509 Chev |
| Supercharger | 10/71 High Helix |
| Fuel Injection | Enderle Big & Ugly |
| Ignition | MSD Pro Mag 20 |
| Clutch | Crower |
| Gearbox | Lenco 4 speed |
| Differential | Romac |
| Front Suspension | Strange struts |
| Rear Suspension | 4 link with QA1 shocks |
| Chassis | Chrome moly and steel |
| Wheels | 16 x 15 Centerline Convo Pro |
| Tyres | 33 x 16 x 15 Hoosier |
| Brakes | Wilwood 4 pot |
| Paint | Black |
| Major Sponsor | Me, myself and I |
| Best times | 7.675 secs. 169.30 mph |